No matter how carefully you plan your goals they will never be more that pipe dreams unless you pursue them with gusto. --- W. Clement Stone
Monday, March 1, 2010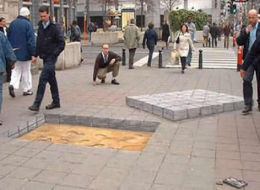 Treat yourself and click through all these 3D sidewalk art pics. They are an amazing display of creativity - kudos to the artists! Think of how you could apply this quantum-level of creative thinking to your job!
Read and vote...but also
Read the Article at HuffingtonPost
watch the "making of" video below:
5-10 minutes well-wasted "researching"!
David
+++++++++++++++++++++++++++++++++++++++++