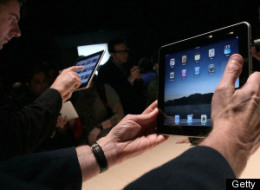 Yes, and Apple's marketing of this has been genius! For a company known for building buzz, they had a great night on ABC last night. In one night, March 31st, the iPad was lauded for 30 minutes on the hit sitcom "Modern Family":
and a feature story on "Nightline" on the same night:
Synergy baby!
Let the lines begin forming at the mall!
David
http://wyld-business.blogspot.com/
Read the Article at HuffingtonPost
+++++++++++++++++++++++++++++++++++++++++