What topics science lovers link to the most
Nov 23, 2011 12:45 am • Permalink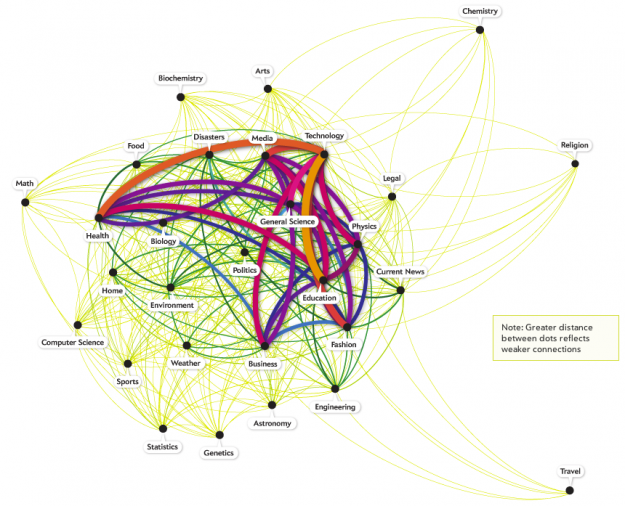 Hilary Mason, chief scientist at bitly, examined links to 600 science pages and the pages that those people visited next:
The results revealed which subjects were strongly and weakly associated. Chemistry was linked to almost no other science. Biology was linked to almost all of them. Health was tied more to business than to food. But why did fashion connect strongly to physics? And why was astronomy linked to genetics?
The interactive lets you poke around the data, looking at connections sorted from weakest (fewer links) to strongest (more links), and nodes are organized such that topics with more links between each other are closer together.
Natural next step: let me click on the nodes.
[Scientific American via @hmason]
Hemorrhoid venn diagram
Nov 23, 2011 12:12 am • Permalink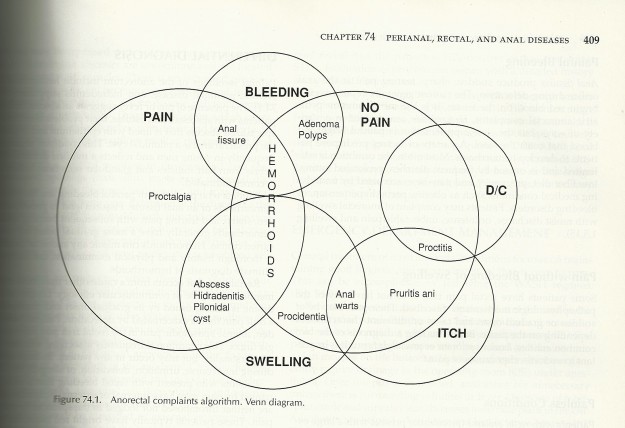 This past week I was shackled by a, um, condition where it was painful to move and difficult to concentrate, and Boost nutritional drinks were my friend, and solid foods were my enemy. (TMI?) I didn't even know this was an issue for people under 30. My caring wife, the ER doctor, looked it up in her medical dictionary, Hardwood-Nuss' Clinical Practice of Emergency Medicine, and this is what she found.
I guess venn diagrams are used for other things besides song lyrics and comics.
Take your fiber this Thanksgiving holiday. Thank me later.
Copyright © 2011 FlowingData, All rights reserved.

You are receiving this email because you opted in on FlowingData.

Our mailing address is: