Contents:

Analysis of chords used in popular songs
Jun 20, 2012 04:30 am • Permalink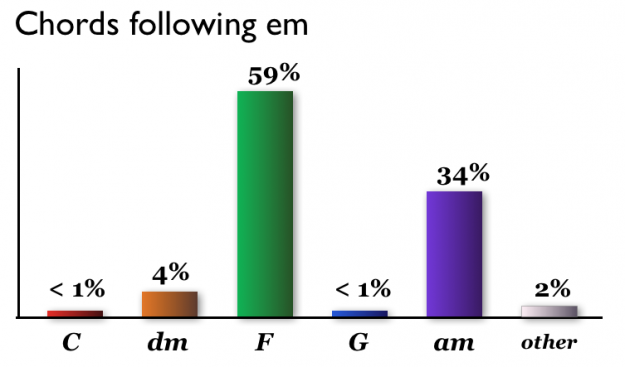 Hooktheory, a system for learning to write music, analyzed 1,300 popular songs for how chords were used. The above shows chords that followed an E minor chord.
This result is striking. If you write a song in C with an E minor in it, you should probably think very hard if you want to put a chord that is anything other than an A minor chord or an F major chord. For the songs in the database, 93% of the time one of these two chords came next.
The most common chords used overall were G, F, and C.
[via Waxy]
Update: See also this great musical sketch by Axis of Awesome in which they sing some 40 songs that use the same four chords. [Thanks, Jan]
To follow me on Twitter, click here.
Copyright © 2012 FlowingData, All rights reserved.

You are receiving this email because you opted in on FlowingData.

Our mailing address is: